Lead generation on Facebook is a favorite strategy for small businesses and top brands alike. When you look at the numbers, it's easy to work out why.
With 2.89 billion monthly active users, Facebook is by far the biggest social network. The platform offers many opportunities for marketers, with algorithms that help you target specific audiences. If you are willing to spend a little, Facebook ads also provide good bang for your buck.
It's easy enough to build a Facebook page and start picking up a few likes. But how do you actually start generating leads?
In this guide, we're going to look at some top tactics for attracting potential customers on Facebook — and how to convert more of those leads into sales.
What Are the Benefits of Facebook Lead Generation?
In the U.S, around 90% of the population has a Facebook account. On a global scale, one in every 2.7 humans on Earth has a Facebook profile and regularly scrolls down their newsfeed.
Unsurprisingly, the sheer number of people on Facebook converts well into sales and marketing numbers:
In other words, this place is a goldmine for digital marketing. The question is, what is the best way to approach lead generation on Facebook?
7 Proven Tactics for Facebook Lead Generation
Facebook is a very deep platform. It has been designed to handle all kinds of media, along with groups, events, live streaming, gaming, and more.
For this reason, there are multiple avenues for lead generation on Facebook. In most cases, a blend of tactics will usually lead to the best results.
Let's take a closer look at some tried and tested strategies that can work in any industry:
1) Share Content on Your Facebook Page
In order to sell ads, social media companies need to keep users entertained. That means serving up an endless supply of relevant content.
If you publish such content regularly on your Facebook business page, there is a good chance you will reach interested users.
What do we mean by content? Anything from simple text posts to photos, infographics, videos, polls, and live streams. Some brands even build social games and quizzes to get users engaged.
Once you have the attention of your target audience, you can guide them towards some form of lead capture. For instance, you could pique the interest of users with a visual preview of your lead magnet and drop the link to your landing page. 
What Type of Facebook Posts Get the Most Engagement?
While any type of content can be effective, the statistics show that visual Facebook posts are the most engaging.
In particular, photos attract many more likes and comments than the average post — and crucially, they generate more click-throughs.
Live streaming is another type of content to consider. Research by Vimeo found that 82% of people prefer to view live videos from a brand rather than reading standard posts. It's also worth bearing in mind that live events give you the opportunity to pitch directly to your audience.
This is an emerging trend that is definitely worth your attention.
2) Invest in Facebook Lead Ads
Along with content, paid ads play an important role in any Facebook marketing strategy.
Facebook advertising comes in many varieties, from sidebar ads to promoted posts. But if your primary goal is to attract potential customers, Lead Ads are probably your best option.
Rather than asking people to click on a display ad and then fill out a form, Lead Ads allow users to enter their details with a couple of taps. This is particularly important for people on mobile devices, where typing your details can be a hassle.
These so-called "Instant Forms" can be optimized for "more volume" or "higher intent," depending on what you are offering. For example, volume is better for newsletter sign-ups, while intent is more important for booking demos.
As with other kinds of social advertising, Lead Ads can be targeted at a custom audience. You can choose the placements for each ad, or allow Facebook to handle that for you.
What Is the Best Way to Use a Facebook Lead Form?
Lead Ads are great for promoting lead magnets, email newsletters, and events. Alternatively, you can encourage users to ask for a quote or book a demo.
Facebook allows you to customize your Instant Form and add multiple choice questions, if you wish. This means you are more likely to get qualified leads.
You can set up your Lead Ads campaign through the Facebook Ad Manager, and connect your CRM to sync the contact details of potential customers.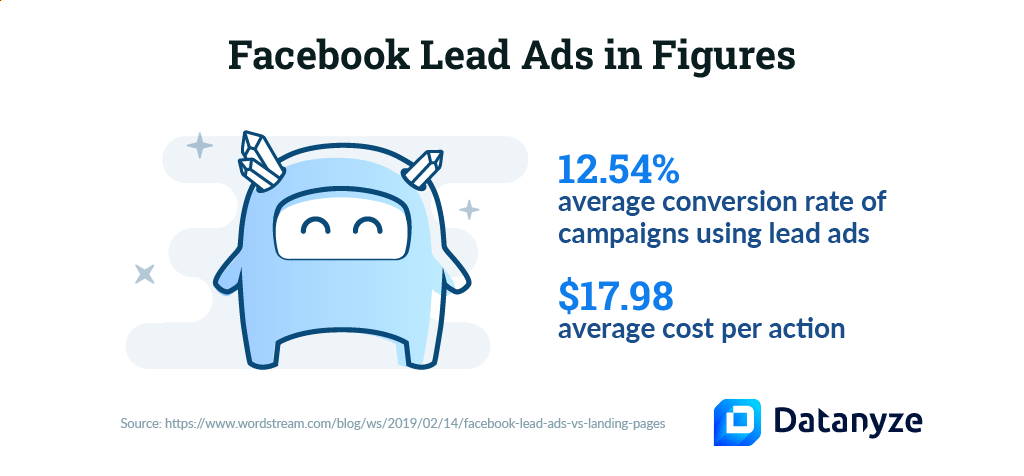 3) Add a Call to Action
In the header of every Facebook page, there is a place reserved for a CTA (call to action).
When someone first interacts with your brand, they may want to go further than liking the page. By setting up a CTA, you can take full advantage of this intent by directing users towards a URL, an app, or your favored method of contact.
To get started, visit your page and click the big blue button under your cover photo. It will say "Add a Button" by default.
Facebook will give you a long list of options here, from "Learn More" to "Book Now." Depending on the type of CTA you choose, you will be able to configure the action to be triggered.
For lead generation, you can use "Learn More" and "Sign Up" to send users towards a landing page. "View Gift Cards" and "Shop on Website" are great for ecommerce, while "Book Now" works for both events and services.
4) Run a Giveaway
Everyone loves free stuff. Even if you're only offering a keychain, plenty of people will gladly tell all their friends about it. This is why giveaways continue to be a powerful form of social media marketing.
"Like and tag someone in the comments for your chance to win!" works well if you're trying to build an audience. But for lead gen, you need to go down a different route.
The easiest option is to set up a dedicated giveaway landing page on your site. You can then post a link on your Facebook page several times to encourage entries, or even promote it with ads.
A more sophisticated idea is using a dedicated Facebook app, such as Wishpond, to run a sweepstake on your business page. With this kind of set-up, you can reward users who refer their friends to your page with extra entries.
Alternative: Share a Coupon
Obviously, you can't always give away a prize that is going to attract potential customers. But you can offer up a coupon via your Facebook page. Aside from incentivizing people to take the offer, you are likely to earn some referrals.
5) Host a Live Webinar
Remember the stats about live video? Hosting a webinar on Facebook can be a really good way to attract leads.
By going live, you have the opportunity to catch the attention of people who are browsing on the platform. You can also set up an event, so that others receive a reminder when you start streaming.
To make the most of this opportunity, be sure to include a clear call to action in the description of your Facebook Live event and mention it during the event.
Remember that Facebook Live streams are saved as videos, which you can share again later. This means you get double value for your effort.
6) Build a Facebook Group
When it comes to marketing higher-ticket products and services, trust is a valuable commodity. Potential customers would far rather place an order with a respected name than with a faceless brand.
Running a Facebook group can be a great way to position your business in the role of trusted expert. At the same time, you can cultivate a highly engaged audience and promote your offers.
To see success with this tactic, you need to choose a group name that will attract your ideal clients. Some people will find your group through search, while others will see it recommended by Facebook.
To foster an active community, encourage members to ask questions and share their thoughts in discussion threads. Take a few minutes each day to engage with new posts. Every so often, you can share relevant updates and offers — including a link to your lead gen landing page, of course.
7) Engage via Messenger
One of the call-to-action buttons you can place at the top of your Facebook page is, "Send Message." This opens a Messenger chat box, allowing users to interact with your page.
When you configure this button, Facebook lets you create a few preset messages or questions that users can send with a tap. For each option, you can compose an automated response.
This can be a really powerful lead gen tool, because people don't have to leave Facebook to learn more about your product or service. You can also include links in your automated responses, thus directing people towards your funnel.
Some companies use Messenger chatbots for even better engagement. Services like Chatfuel allow you to set up a variety of responses to frequently asked questions, and you can build in action buttons — such as "order," "buy now," and "subscribe."
How to Convert More of Your Facebook Leads
As we have seen, there are many ways to find potential customers through Facebook. With a little engagement and optimization, you can turn your page into a lead gen machine.
However, not every lead has equal value. For instance, those that come from giveaways are less likely to end in a sale than those from a webinar or demo booking. The conversion rates for these two groups will be very different.
Here are a few tricks for increasing the number of high-quality leads from Facebook:
Ask questions on your Lead Ads – The answers will help you sort serious buyers from the people showing passing interest.
Target lookalike audiences – When you run ads, segment the best-quality leads and ask Facebook to target similar users, based on demographics and engagement data.
Exclude known leads – Using a tool like Driftrock, you can set up an automation that excludes people who are already in your CRM.
Optimize your ad copy – The best Facebook ads attract the most clients, not the most clicks overall.
Nurturing New Leads
Of course, generating a lead is only the beginning of the sales process. To turn that individual or business into a new customer, you will need to nurture the lead.
Before you follow up, it's a good idea to do some research. Most buyers are more inclined to say yes to a personalized pitch, after all.
At the very least, you should know who your lead is. For B2B sales, you should also find out who your contact works for, and the size of that company. It is useful to gather multiple methods of communication, as well.
Datanyze: Find Lead Contact Information
If you're looking for an easy way to find and verify lead data, Datanyze is worth your attention.
With our free Chrome extension, you can reveal accurate contact details and company information for anyone on LinkedIn with one click. It works on company websites, too.
All the names you collect are saved to your account, and you can easily export the data to a CSV file.
Sounds good? Sign up today for a free 90-day trial.